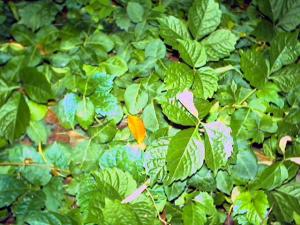 Click for larger picture
Submitted by:

Todd Stogner


Date Submitted:

6/24/2003


Location:

Oklahoma City, Oklahoma

Question Asked: I live in Oklahoma City, Oklahoma. This ivy is growing in a shadowy spot in the corner of my backyard. It is growing amongst some ground cover of some sort and some Boston Ivy, I believe, on my fence. Is it POISON IVY?

Answer: Hi Todd -

Well you've certainly presented me with an interesting plant to id. Oh and just to make it more interesting, I know that there is Toxicodendron pubescens (atlantic poison oak) in your general area of the country. So the question is more of is this poison ivy, oak, or something else? Most of my id's are pretty easy based on location and plant characterisitics. Your's is trickier so I've enlarged the pictures, rotated them, and just in general stared until I couldn't anymore. I'm ruling out poison oak just based on the leaflet shapes as poison oak is not nearly as variable in shape as is poison ivy. So is this poison ivy? I think so. The problem I have is that of all the poison ivy I've seen, identified, seen pictures, and read about in field guides, the middle leaflet is on a longer stem. It's the short middle leaflet stem plus the fact that I can't see any of the stem (vine) just leaves that makes this a tough call.