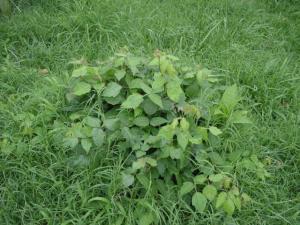 Click for larger picture
Submitted by:

Karin L


Date Submitted:

6/16/2003


Location:

Virginia Beach, VA

Question Asked: I just moved into my newly purchased home in Virginia Beach, VA, and within one month, I developed a small itchy spot on my arm which resembled a spider bite. I had it a week, them seemingly overnight, I had a rash all over my body which was red and streaky. I developed small clusters of clear blisters and small red bumps all over my body. I've suffered with this for 3 weeks, and in trying to figure out where I would have come into contact with a poisonous plant, it dawned on me that my dogs may have brought it in from the backyard. I investigated, and sure enough, this is what I found. I have a huge bush of it which is growing out of a stump, and large quantities along my back fence. Is this poison Ivy, and if so, what do you suggest to get rid of it.

Answer: Hi Karin - Look what the dogs drug in - that's a lot of poison ivy. And it seems to be growing everywhere - on the stump, on your fence, in amongst the grass, even competing with the false strawberry. To get rid of this will take diligence and patience. I'd recommend that you first start off using an herbicide like Brush-B-Gon which you can find at any DIY store like Home Depot or Lowe's. Spray as much of the plants as you can. Once the plants die off, these are still toxic to you so handle with care. You should consider investing in a good pair of PVC coated gloves that go to your elbows. This way you can handle the plants dead or alive. You'll have to decide if you want to kill the plants and allow it to eventually decompose or pull up the dead plants and dispose. I pull up vines in my yard and dig up the roots to try and prevent the plants from coming back. I know Brush-B-Gon says it will kill the plant but I've had some hardy stock come back so I prefer to get rid of the plant roots and all. If you do a search on the Q&A Board for "control" or "gloves" you'll find where I've posted some of my directions for pulling plants. Also, go to the "Control" section on this site for more tips.